Chris HighDime talks to us about his new magazine, the Dallas cultural scene, and working outside of Texas
We recently had a conversation with one of Dallas' premier photographers, Chris Highdime about his role in the Dallas cultural scene, his upcoming magazine that's slated to release around SXSW, aspirations for working outside of Texas, and more. Read the intimate conversation with Chris HighDime below.
How's your Modern Life?
Pretty chill, all I do mostly is skate now and come up with designs and ideas for the future.
What are some of these ideas you've been having for the future?
Clothing, galleries and etc.
Oh okay sounds exciting, we're looking forward to it. We seen you had a productive 2015, what were some of your most memorable moments?
Most memorable moments of 2015 for me was shooting photos of Chief Keef, Travis Scott and Robb Bank$. Also meeting Ian Connor, he's a cool dude and he's short lol. Then being on 2 magazine covers in New York and I believe the most important one is going to those WeAreDallas shows with all my friends like Ap, Nhi, Tommy Bill$, Cayla, Santana Sage, Seven Chains and my Uncle Dibbi.
I also had a chance to meet Pollari and Lil Yatchy.
Wow, that's an amazing list of things you've done in 2015. What are somethings you have planned to do this year?
I don't even know yet like I think i will be shooting with Pollari soon hopefully and I can start working on the second magazine but rn I'm just chilling with my girl and planning to travel.
Oh okay you mentioned your magazine. What's the meaning behind Highdime Magazine?
The meaning behind HighDime magazine is just showing you a small image of Texas culture from shows to clothing brands and style. I feel like the people I know and respect weren't getting that much love from magazines and blogs so I made my own.
That's great to hear, how much does it mean to you to publishing a physical magazine compared to making a website to showcase your work?
It's a dream come true honestly. I wanted this since I was a kid like all these ideas I've been saving since I was younger.
What do you think this magazine do for the city of Dallas and it's culture?
Showcase the talent and how unique we are at a very young age.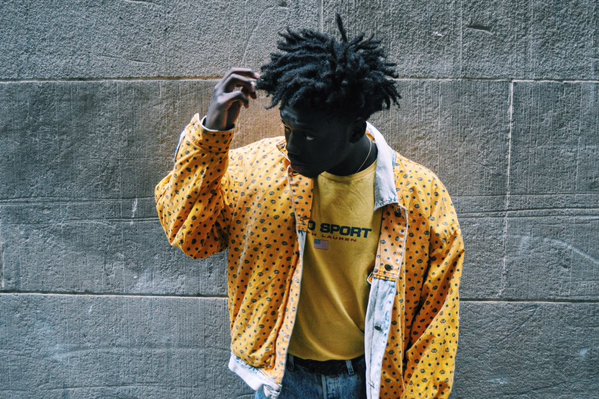 Do you think Dallas is already proving that to a certain extent?
Yeah but I think we need to come together and get this money. There's too much of a divide in the site rn and we need to stop putting on niggas from out of town and support people in the city that are actually unique and talented.
Who you think will be those individuals that will bring everything together?
I don't even know anymore really like everyone is going there own separate ways now
So it looks like you'll be one of those individuals right?
Probably, but I'm trying to get out of Texas really. I want to travel to different states, I love Texas but I want to explore new places and people too.
Where do you want to live in the next 5 years?
Possibly in LA with this girl i like a lot. That would be cool.
Good scenes and good vibes for inspiration right?
Exactly, nice weather too.
What are three areas you want Dallas to progress in?
Music and better shows. You don't need 20 niggas on the bill just to provide some hype and then those same performers are probably not getting paid. Last, just connections and ideas. You don't have to center your parties around drugs and getting fucked up all the time, we're still young and learning still.
What are three things that are helping you grow?
Staying isolated in the house, like I don't need to go to every party or show to shoot to get some clout, I'm really not missing anything really. Also staying lowkey, I don't need to announce or tweet all my ideas I rather just show you when I feel like it's time to show you my progression or where im going with my art. Last is making connections with people in other states and countries.
Finally, What are three things you want to accomplish this year?
1. Is to at least some of my photos in Fader with credit because some companies don't like to credit the photographers.
2. Go to LA with my girl and vibe out and chill with people I know in that area.
3. Make this whole photography thing fun again and chill with all my niggas that's been there from the beginning.
Before I leave, I wanted to shout out the people below.
Shoutout to 7 chains and his whole crew, my uncle Dibbi, Nhi, Ap, Tommy Bill$, Cayla Vuitton, Emada, Bree, Preyeme, Roman, Kiko, George Oliver, Sush, Shark Jacobs, Ezra and the Daytona Boyz, Pj, Ade, Kelsey, Kailey, Rianne, Blues aka "Trap Burger", all the cute Austin girls that are talented af, Chloe and Avery and Lil Will, Goon, Trapmama, all the homies in NY and LA that fuck with me, Devon Harvey, Nicotine, My Mom, My homie Holden and free Marley and To my brother Eric aka Santana Sage I'm sorry what happened bro you will always be in my heart it sucks you had so much talent and something like this happened you saw my vision before I did and you will always be in my heart.
oh and Sasha Bradley I love you.
Follow Chris HighDime here and here