Houston Takes On NYFW : Lavish Larry of the Lavish Club
The expansion of clothing in the Houston are has became massive in the past few years. The growth in more brands has developed unique personalities and allowed us to discover who are the people behind these brands. These individuals have not only further their brand but have honed their skills to the point where it's able to reach the masses.
The perfect place to do that is New York and the perfect time to show off your threads and network for designers is New York Fashion Week. This year's NYFW brought out a showcase of stars, but it were some up and coming individuals from the Lone Star state that represented Texas well. So it was only right for Modern Life Mag to speak to some of these people to speak about their experience in the "City That Never Sleeps."
Our first story comes from the perspective of designer, Lavish Larry. He's the bright mind behind Lavish Club, a brand that's known for staying true Southern roots while keeping their customers in threads with designs pushes the edge of streetwear. As he progresses his brand, his trip to New York has not only advance his way of thinking but method of delivering clothes. We had a chance to Larry about his trip, what he likes about New York, how has it benefited him as designer, and more.
Read Below.
How was your experience during NYFW?
Inspirational like everything was just dope fashion and city wise. I've always been into fashion or just being a fresh ass nigga. Being different, getting dressed and hurting feelings. Type shit I like and in NY that's everyday shit for people. Everybody was just styling.



What were you some things you learn from a designer's standpoint during NYFW?
I wouldn't consider myself an designer, I only create clothes when inspired, which gets into what Lavish Club really is as far as clothes it's simply just stuff I think cool & want to wear. Not what's hot or poppin but what I like. That's the new thing everybody wants to ride that "Fashion Designer" wave now, buying sewing machines n shit. I met real fashion designers and compared to them I wouldn't give myself that much credit as to say I'm a designer. Not yet.




What are three things you like about New York?
The culture & diversity, the styles & how everybody do their own thing like the city legit don't stop, it was raining that Thursday I got made to the city and people were still out like it was still poppin. Niggas was outside in Harlem at 3 in the morning like its 12 noon. I real life fell in Love in 5 days.



What are three things you don't like about New York?
Traffic, Traffic & Traffic



Who do you think has better food Houston or New York? Why?
Houston easy well I should just say down south and I'm from New Orleans so we just eat good in general from birth.

 
What was your craziest moment in New York?
Honestly most of it I can't remember but it was lit every night I went to Harlem. That Friday I had been drinking, eating fancy d'oeuvres & finessing all day. I was 20 at the time but I kept getting bands to drink at events so I was Mr. Don't Keep Count. But that night I ended up in Harlem got high on a roof top everything else is blur. I woke up the next day fully dressed though at my spot in Brooklyn. It's a whole bunch of stuff that was crazy.
What is your most memorable moment in New York?
The most memorable moment was when I went walking around Sunset Park & there was an block party it was mad dope it was like 3 families on the block cooking, kids playing & my trip was made when I seen the kids playing with fire hydrant like off the movies!

What are some things we can expect from the Lavish Club this year?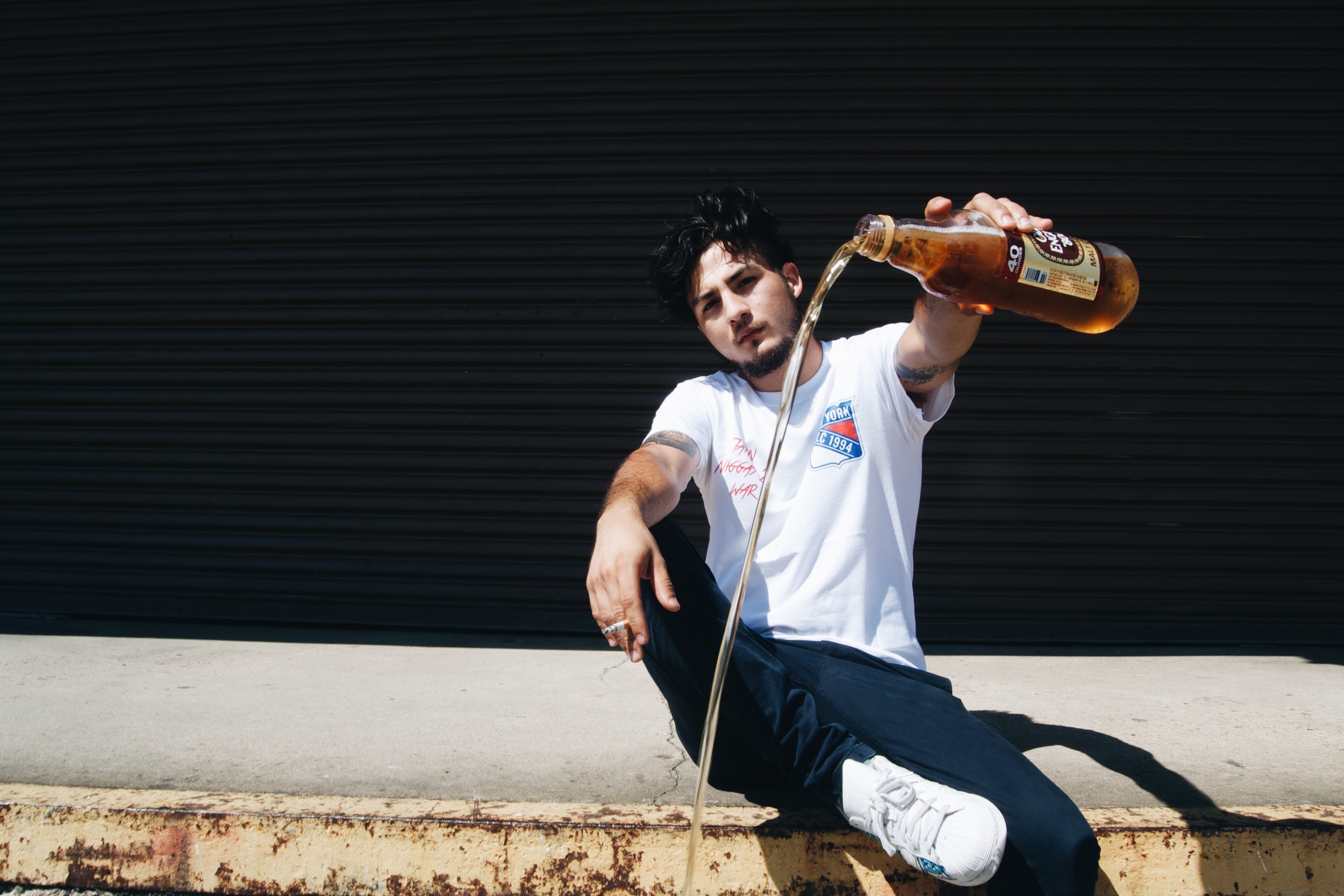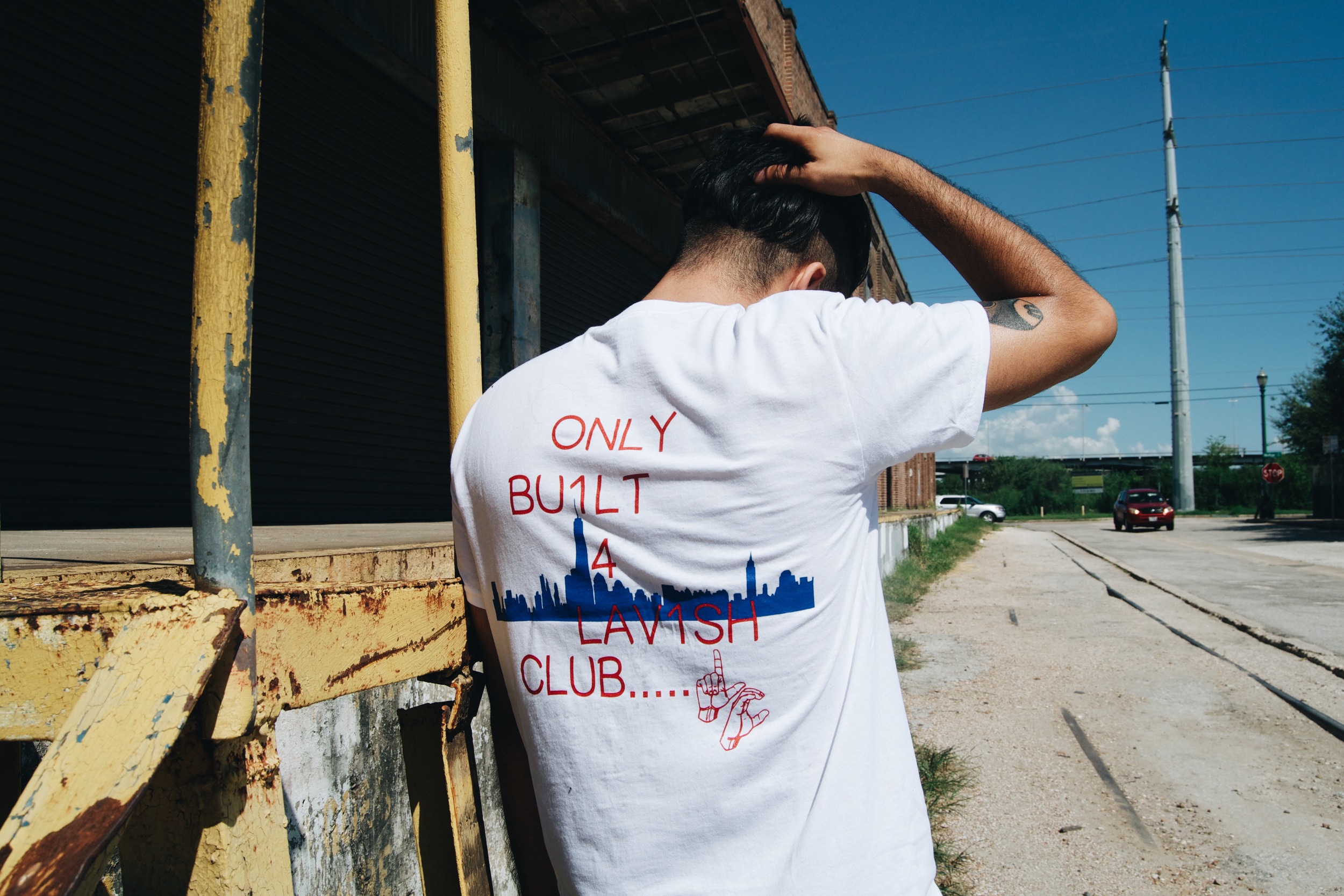 Well since Lavish Club is me which is more than just clothes you can except more visuals & visions. I'm more drawn to my photography right now and I want to get more into video.


What are three things you think Lavish Club can bring to Houston fashion?

Originality I'm not afraid to be different that's what I aim for, like shit I been doing niggas just now doing. Malcolm X shirts that's 2013, packing my shirts in ziplocs because I sell my clothes like they dope, I been at it.

Simplicity Keep it G and simple no monkey shit, nothing corny.

Old School favor especially music wise, like the Juvenile shirt inspired by 400 Degrees or the New York shirt dropping its inspired but Raekwon Only Bulit 4 Cuban Linx. The 80s & 90s my biggest influences from Metal to Hip Hop, Drugs, Fashion everything.



What are three things you carry on a daily basis?
2 Phones, chap stick and my camera


Who are three of your favorite southern artists?
Juvenile, B.G. & Project Pat



What are three pet peeves of yours?
Chicks who automatically assume you want something from them. Niggas who try to hard to be cool or fit in and Followers



What are three things you want to accomplish this year?